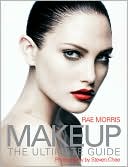 It's hard to find makeup books that are more in depth and for people who aren't just beginners. I've purchased several makeup books only to find that the information in the books is more on the level of extreme beginners who don't even know how to apply gloss. So, if you are looking for an informative makeup book that goes beyond the beginning levels and gets more in depth, I really suggest Makeup The Ultimate Guide By Rae Morris.

First, who is Rae Morris? She is one of the top makeup artists in Australia and has won several awards for makeup artist of the year. She was 2010 key speaker at IMATS (a huge makeup show for the entire makeup community). She is the makeup director for Australia's Fashion Week and does makeup for film, tv, models, celebrities and more.


Morris' book does provide some beginning strategies, but goes beyond the basics and keeps explaining more. She starts with the essentials, how to build a makeup kit, how to do your eyebrows and then goes forward even more. This books contains face charts on how to create depth through contours and shade certain areas of your face in to get a slimming effect. It has over 50 eye look tutorials, brow shaping guides, color charts and more.



One of the first sections tells you how to prep your skin and eyes for makeup then it goes on to explain all of the makeup brushes types and multi-uses for each brush and then the next section on brows is very useful, because it shows you every type of brow there is and tells you how it effects the shape of your face. Morris let's you in on which shape you should use if you want larger eyes, smaller eyes, a slimmer face and other results such as this.
The next section is on eyelashes and she again goes very in depth with it. She shows you several different types of lashes, how the types effect the eyes, and how moving the lashes to one side or the other by even just a centimeter during application can greatly effect how your eyes will look. Morris also tells you which lashes are best for small eyes, large eyes and even explains which work best for Asian eyes.
The next section is full of color charts. She separates the color chart section based on the eye colors blue, green, hazel, brown and neutral. This chapter doesn't just show you a few colors and move on, it explains and recommends colors for light blue eyes, warm blue eyes, cool blue eyes, and all blue eyes and does this for each color. It goes even further to tells you which colors to use for metallics, enhancers and eyeliners as well.
The following chapter is all about eyes and this is my favorite chapter in the book. First she explains how to apply makeup to heavy and hooded eyelids, large eyes, small lashes, and everything in-between. Then she does over fifty eyeshadow tutorials complete with pictures of each step and a final full page picture of the finished look. And she knows what she is doing. I've purchased some books where the finished looks were very bland and blah, but Rae Morris provides you with top quality looks from basic neutrals to Egyptian eyes, smokey eyes and even extremely bold high fashion looks. There really is a look for everyone from natural to costume and again, everything in-between.
Rae Morris also touches on the subject of makeup for the women over 40. She explains ways to keep yourself looking useful, new tips for you try and what may not work for you as well now that you have more mature skin. The best part of this section is the fact that shes uses real women in their 40's and beyond to show you how the products will look on your skin.
Next is the contouring section I mentioned earlier. It come with face charts that are shaded in to show exactly where to highlight as well as directions. You will learn:
How to define cheekbones and slim the face

Create a more narrow, larger, slimmer or shaped nose

Create fuller lips or smaller lips

Define or slim the jawline

How to life sagging eyes

How to hide a receding hairline

Minimize a large forehead

Enlarge your eyes and more
Foundation is the next portion of the book. She explains...
Foundation base types like liquid, grease, oil based, water based

Textures like mattes, velvets, luminous, etc

Types of coverage such as invisible, sheer, medium, full

How to test the foundation properly as well as color matching

How to conceal blemishes, wrinkles and more

She goes in depth with each foundation type providing pictures and instructions and how to use each type and the resulting looks
Bronzer is the next detailed section, which is not quite as in depth as the majority of the sections. It does provide four full page pictures of what each stage of bronzer looks like with detailed steps. I think for people unfamiliar with bronzer this may not be detailed enough for you, but considering this book is a just a little more advanced than most, I think the majority of readers will be satisfied with the instructions here because most will know the basics already.
Next is lips and cheeks and she again goes into great detail and provides several picture examples to go along with her tips. She explains...
How to make lips larger

Which colors will suit you

How to stop feathering or bleeding

lipstick textures and quality

lip liner

dry lips

application

exfoliation of lips and even more lip tips

how to apply blush and effects it has based on placement
The final section is Ten Minute Makeovers. Rae Morris provides us with several beautiful pictures and detailed steps for each look, which takes only ten minutes to achieve.
Overall, this is by far my favorite makeup book I own. The pictures are amazing and so beautiful. She goes into so much more detail than most other makeup book authors do and touches on several subjects that most beauty books do not. I highly recommend this book to anyone who loves makeup or who wants to learn how to apply their makeup better.
*Morris' Book is currently discounted at Barne's N Noble - Click the picture to buy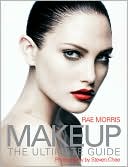 Have you read Rae Morris' Book? If so what do you think of it? If not, do you think it's something you would like? Leave a comment below and let us know what you think!
Thanks for reading! Don't forget to subscribe/follow for future tips, reviews and updates.
xo - Glamatronic